>> Hey,
Spotify Listeners
Breakfast Enthusiasts! If you don't know what the CMJ music marathon is by now you must be living in a hole in the ground similar to Frodo Baggins (or maybe you don't live in NYC). For all you hobbits out there the
CMJ Music Marathon
takes place in the big apple over the course of five days October 15-19. There are hundreds of bands to see at venues all over the city and panels you can attend that talk about everything from "The Struggle for Metal's Soul" to "Serenity Now: Rock and Roll Your Soul Yoga." There's something for everyone at CMJ and I encourage all you New York City hobbits/breakfast enthusiasts to attend and broaden your musical horizons!
Here are some Family Breakfast approved bands and artists to get you started >>

He Is Legend

(facebook)
I love these guys, but I sort of forgot about them. Big mistake! They're AWESOME. Are you looking for some quality, fast-paced post-hardcore things to listen to? Do yourself a favor and check these North Carolina boys out. As a matter of fact, do yourself a favor and check out their hit song "The Seduction" right now. DO IT. I was listening to these guys back in 2006 - but it looks like after coming back from their hiatus they're still going strong. They're playing an official CMJ showcase show alongside up-and-coming bands Nevada Rose and Die a Hero. This show is not to be missed, breakfast eaters.
10/18 - New York, NY @ Tobacco Road: Zach Neil Company CMJ Showcase
Between The Buried and Me
(facebook.com/BTBAMofficial)
Nothing sums up this band better than this quote (from Spotify) "Between the Buried and Me is a thinking man's hardcore unit from Raleigh, North Carolina." Another North Carolina band! These guys were here earlier this year playing a landmark show with Coheed and Cambria at Radio City Music Hall. Not too shabby! I highly recommend this band for all fans of metal and its various incarnations. So, breakfast eaters, I encourage you to put on your top hat and listen to some learn-ed, metal guitar riffs whilst head-banging in a sophisticated manner. For those about to rock, we salute you.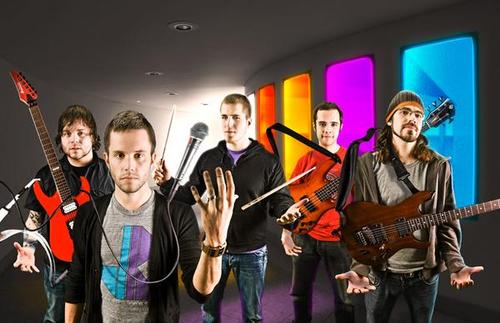 10/16 - New York, New York @ Best Buy Theatre
The Head and the Heart (
facebook.com/theheadandtheheart)
The Head and The Heart are a wonderful folk/americana band I recently started listening to. They were signed to Sub Pop records in 2011 - a label notorious for great music. If you enjoyed our friends Toy Soldiers, you'll love these guys. If you need to calm down after the hardcore bands you moshed to head on down to Brooklyn and see these guys. Imagine driving through the mists of Seattle, where these guys are from, or the mountains of Colorado. Are you calm? I'm calm. I know you like Mumford and Sons so why don't you do yourself a favor and abandon the bustle of NYC for a minute and let the indie folk wash over you like a cool breeze.
10/17 - Brooklyn, NY @ The Music Hall of Williamsburg: Sub Pop CMJ Showcase
Father John Misty
(facebook)
Father John Misty was my favorite find of 2012. I was first introduced to Joshua Tillman's music when my best friend showed me an awesome music video they made for a song called Hollywood Forever Cemetery Sings (below) starring Parks and Recreation's Aubrey Plaza. I was hooked after that. I don't think I will ever stop listening to that song, and neither will you after you've heard it. It's arguably the coolest song that came out of 2012. FJM's studio album Fear Fun is a perfect portrait of the sadness in folk and indie music. Father John Misty is the rick man's Kings of Leon. They're one of the big stars at CMJ Festival this year and I know I say this a lot, but they are not to be missed. I mean it. Father John Misty is the real deal.
10/18 - New York, NY @ Town Hall: Sub Pop CMJ Showcase
10/19 - Brooklyn, NY @ The Music Hall of Williamsburg: Sub Pop CMJ Showcase
Meek is Murder
(facebook.com/meekismurder)
Meek is Murder describes themselves as "Brooklyn whatevercore." I like that a lot. Breakfast eaters, this band's power level is over 9000 and I don't say that lightly. They came out of nowhere, but it's obvious to me that they're going to be huge. If you like Every Time I Die, you need to see this band. I love me some grindcore/hardcore/whatevercore so their studio album Algorithms really spoke to me - and by spoke to me I mean melted my face. The record was released by MetalSucks who have an amazing metal music news website. Come out to Brooklyn to the MetalSucks/Metal Injection CMJ showcase because I know it will blow your mind. This show is going to be rowdy, folks. As the band says: "Meek is Murder, dude."
10/18 - Brooklyn, NY @ The Acheron: MetalSucks/Metal Injection CMJ Showcase
>> Obviously this is just a small taste of what you can enjoy at the
CMJ Music Marathon
this year. However, I highly recommend these bands if you are a fan of the Family Breakfast. If you're in NYC you should make a point to get out there and explore the awesome musical happenings during October 15-19th! You'll laugh, you'll cry, you'll have your faces melted and you'll eat breakfast. If you can't make it to CMJ I still encourage you to listen to these bands and see them when they come by your city. For a complete list of bands and a handy CMJ schedule, you can go
here
.
Yours cruelly,
Sheila
Get Connected:
facebook.com/theheadandtheheart
facebook.com/meekismurder